Frequently Asked Questions
General
When is the 2018 Memorial Day Pub Run?
The 2018 Memorial Day Pub Run was held Sunday, May 27th - aka the day before Memorial Day.
That's great, but it's 2019 now. Why are people still asking about 2018?
The 2019 Memorial Day Pub Run will be held Sunday, May 26th - aka the day before Memorial Day and roughly 364 days after the last one.
Why is it called the Memorial Day Pub Run if it isn't on Memorial Day?
It's obviously called that because the party rolls into Memorial Day. And because it sounds a lot better than calling it the "Day Before Memorial Day Pub Run." Obviously.
How much does it cost to register?
The registration fee is $30 for U.S. participants who pre-register. $50 for VIP runners and $ for day-of registration.
Is that VIP thing for real?
Of course it's for real. We love our vip's and their deep pockets very, VERY much.
Do I really get a Memorial Day Pub Run Singlet if I register?
Heck Yes! We're as sick of running in non-Pub-Run branded clothing. Time to change that! We encourage everyone to wear their Pub Run singlet proudly to the event.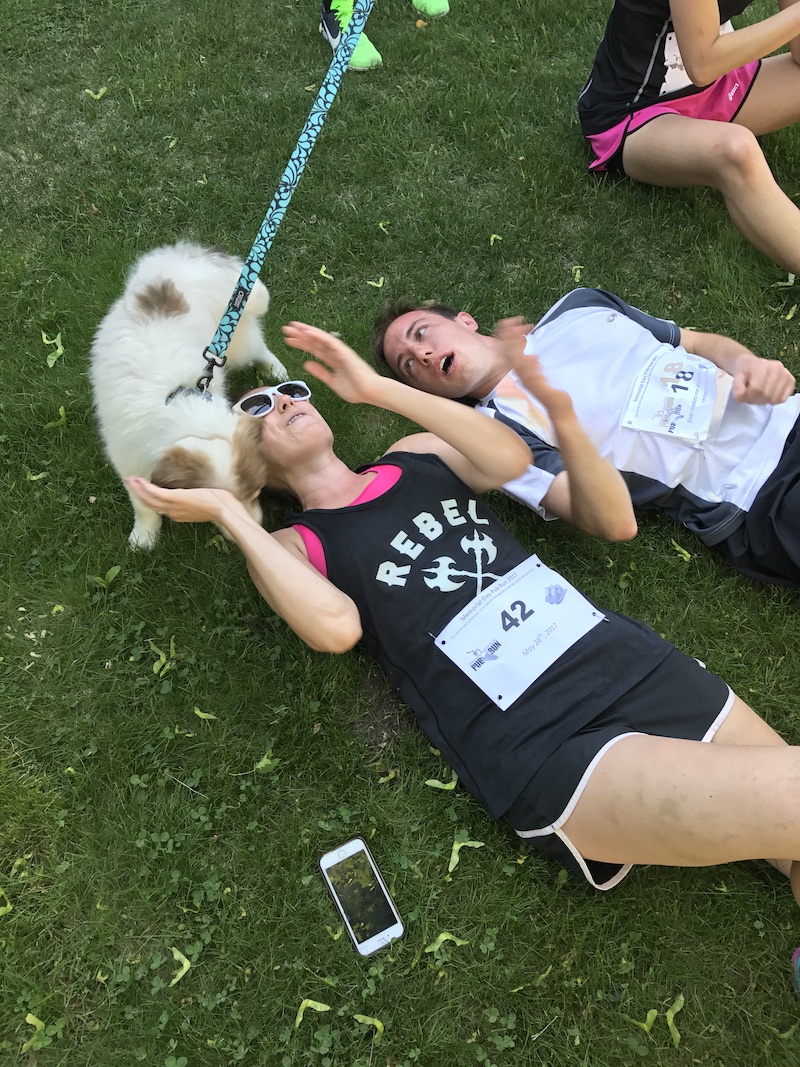 What is the sizing like on the singlets?
Supposedly pretty standard. The Pub Run Committee has ordered a men's medium and women's small to try on, so come to the club some night and see if the git the fit as nobody says.
Should I wear the singlet to the event!?
Heck yeah you should! Event singlets are the number one way to increase your Pub Run enjoyment. I can't stress this enough. Wear it loud and proud as I'm sure someone has said at least once
Is that VIP thing for real?
Of course it's for real. We love our vip's and their deep pockets very, VERY much.
Is there a registration capacity for the Memorial Day Pub Run?
Yes, registration will be capped at 50.
Hey!? Wasn't the cap 45,000 not too long ago?
Good memory. Yes, we're getting a little to big for the bars and back yards. 50 seems like a good number. We don't want to deal with any more of you at this point. Maybe next year we'll raise it to 45,000 again.
When do you expect the pub run to reach its full capacity?
Probably just before you register.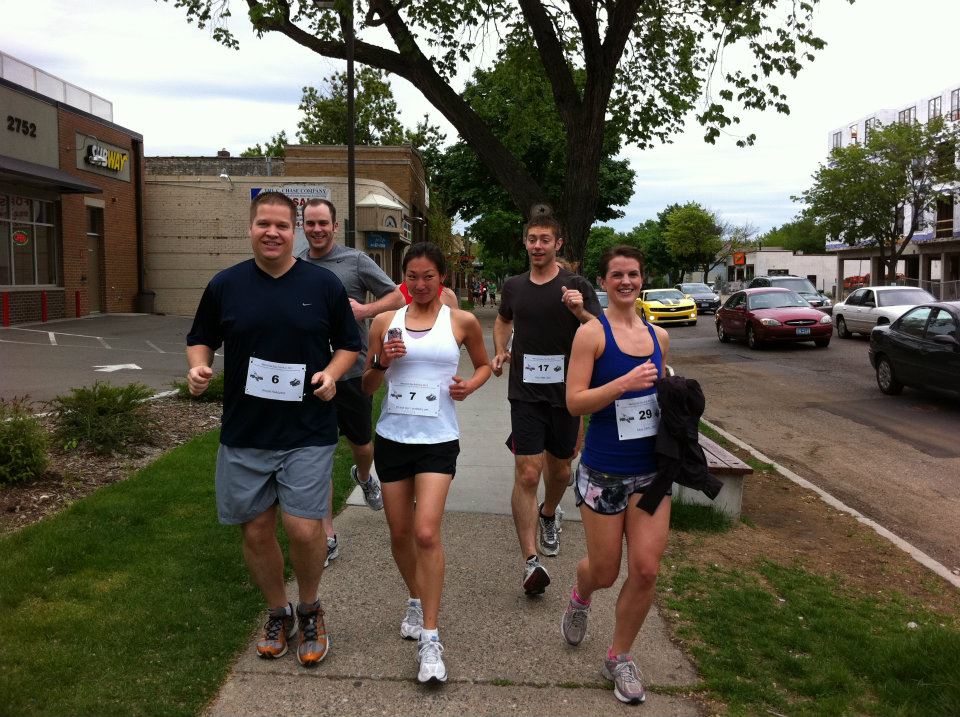 Pub running.
Any frequently asked questions?
I am injured and/or cannot run the event (family commitment, work obligation, etc.). Can I get a refund, donate my entry or transfer my entry to someone else?
No. Per our rules, you can't transfer or sell your bib to someone else.
If I provide medical documentation of my injury, pregnancy, or sudden teetotalism will you give me a refund?
No.
Pleeeeease?
No. Well, maybe if you offer to buy Paul a beer next time you're out he'll refund your dollars. MAYBE.
How can I confirm my registration after I sign up online or mail in my registration form?
You can't. You gotta trust me. Or you could ask the race committee.
Does the event offer a half pub run option?
No, there is no official half pub run, though people have met us in Uptown before. While this practice is generally discouraged, if you plan to do it you MUST let the pub run director know you are planning on doing so.
Is glitter allowed in the Pub Run?
The Memorial Day Pub Run is proud to be a 100% glitter free event! LED's are probably ok though? But I don't know why you'd want to do that!
Are relay teams allowed to participate in the Memorial Day Pub Run?
Sure. Why not? I have no idea how this would actually work but if you have an idea go for it?
I cannot run the pub run. Will you mail drinks to me?
No. We are unable to mail out drinks. No exceptions.
Do I need to be a member of the CRBC to do the pub run?
No. But you have to at least know someone in the club to do it. No strangers! Strangers, get distracted by this.

Unless you are a stranger with an unmarked van and candy! Then sign up; we like your type!
What is the prize purse for this event?
Glad you asked. This year we are proud to announce our biggest prize purse ever!
Event
Do I need to bring money with me?
Only if you plan to buy food, non-happy hour drinks or shots.
Is there anything I need to bring with me on the pub run?
Yes. Your ID. A camera if you want. A kick-ass running outfit or short-shorts to make bar patrons jealous!
What is the pun run's stance on crotch punching?
We believe crotch punching should NOT occur except in the case the recipient deserves it. In that case punch away!
Course
Where can I find a Memorial Day Pub Run course map?
Click here for the 2019 Memorial Day Pub Run course map (subject to change). The Memorial Day Pub Run course is a fast and mostly flat course that boasts 2 world records and numerous American Records. If you're looking to PR in the pub run, this is the course.
But I thought this was a new course. How can there be records on it already?
Obviously, we invited Meb and Shalene to test the course. When they declined we just had a few creepy strangers do it instead. And then invited those people to the pub run!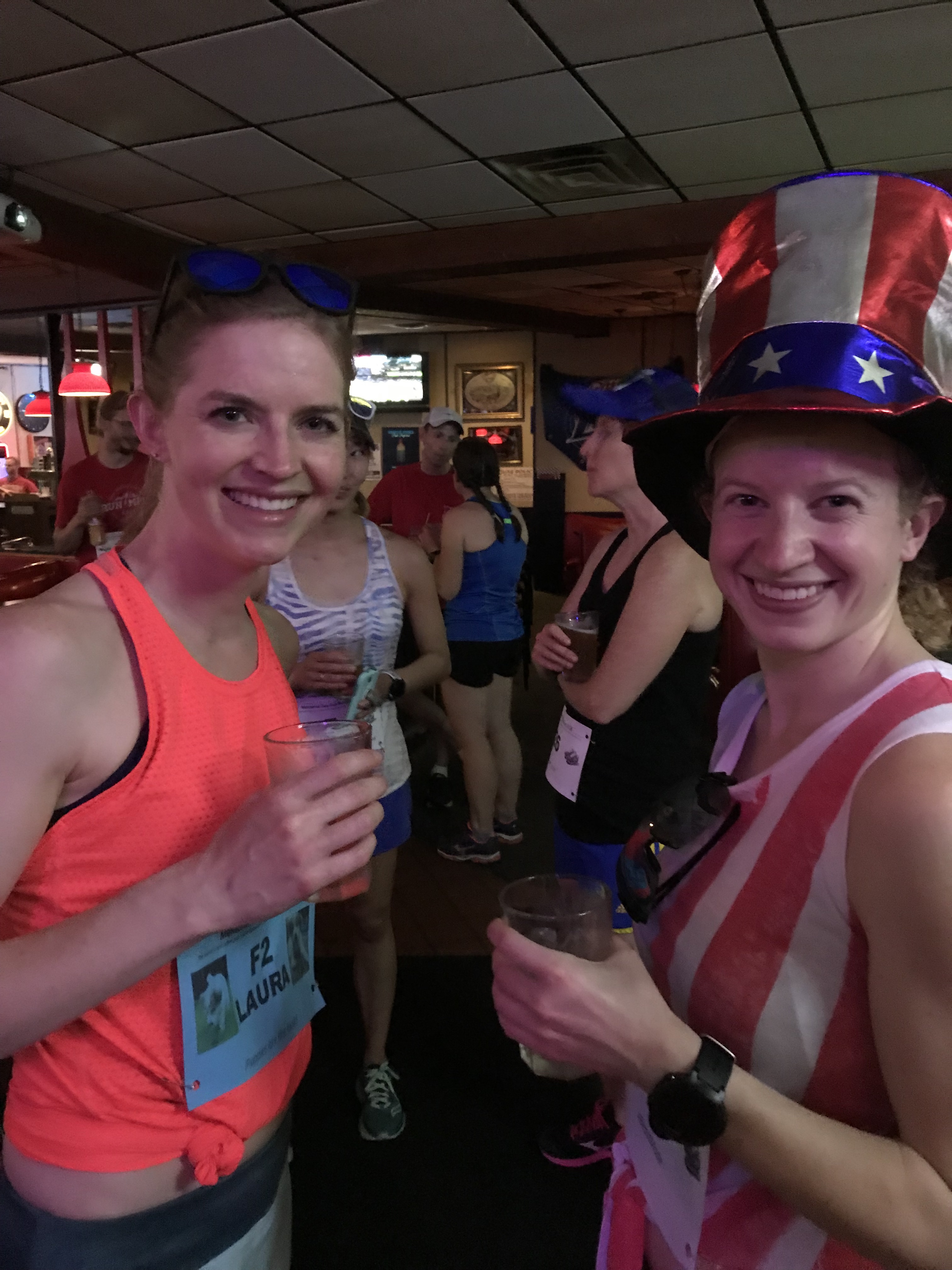 Wait, isn't there a "no strangers" rule?
I can see someone is gunning for last place in the Pub Run with these kinds of questions. Keep it up!
How many "Aid Stations" are on the course?
There are 5 "Aid Stations" on the course.
What flavor Gatorade do you offer on the course?
In the past we've offered Everclear-flavored Gatorade on the course. Due to the cops almost being called I think there will be no Gatorade on the course this year. Sorry.
How long is the course open?
The course is open for 1 week. If you can't finish by then you're in trouble.
Is the Memorial Day Pub Run a Boston Qualifier?
Yes. Submit your times to Boston. I want to see what they say.
Can I run with an iPod/headphones?
Yes, but please don't. This is a social outing after all!
Can I run with my Garmin GPS or my Nike Plus device?
Sure, if you really care about your pace go for it!
What is NOT allowed on the course?
Horses.
I live along the race course. Where can I find out about race day street closures?
For important information on street closures, visit www.isMyRoadClosedForThePubRun.com. If that site doesn't work (likely due to their servers being overwhelmed), look out your window on race morning and see if there are cars going by or not.
Pace Teams & Training
Do you offer Pace Teams?
Yes. I can't promise they'll be very good after the first couple drinks though. You're better off on your own.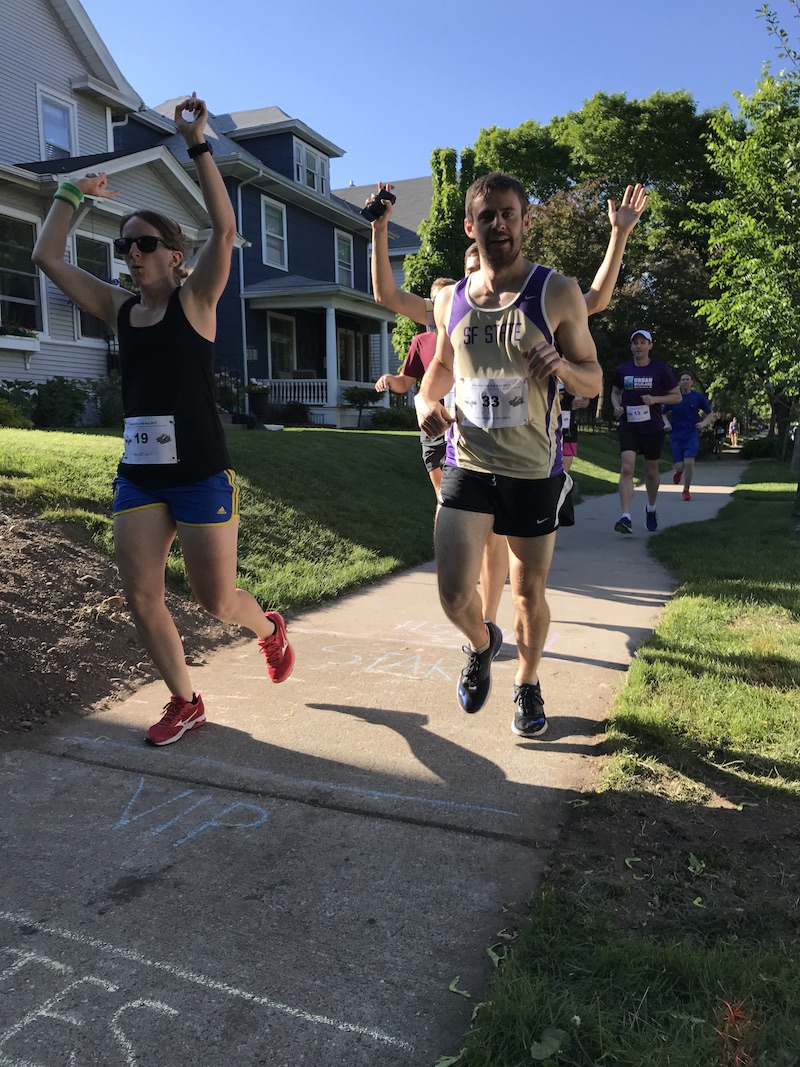 Is there an official schedule?
Yes. In fact there are nearly infinite official schedules! Check out Training schedules to see what we mean.
Ok. I did that. Why can I choose to train for 10 weeks when the event is less than a month away?
I don't know. What do you want from us!? No wait! It's because you can make a schedule for NEXT year too if you want. Or other pub runs. Or marathons? Lots of reasons!
Start Corrals
What are Seeded Start Corrals?
There will be a corral system in place this year. Three corrals to be exact. One for the elite athletes, one for the VIPs, and one for the common folk.
How can I qualify for the Elite Corral?
You gotta be elite!
I'm pretty elite. So does that mean I get elite status?
Not quite yet. We've known you to be pretty untrustworthy in the past, so you've gotta prove just how elite you really are! Check out this page if you're not scurred.
When is the deadline to submit proof of my eliteness?
I don't know, let's say up to 7 days before the event? Maybe 5? I don't really know.
Elite Corral
| | |
| --- | --- |
| Expected Capacity: | 5 |
| Avg. time to cross Start: | 0:00 (minutes) |
VIP Corral
| | |
| --- | --- |
| Expected Capacity: | 5 |
| Avg. time to cross Start: | As long as they want. They are VIPs after all. |
Common Folk Corral
| | |
| --- | --- |
| Expected Capacity: | 40 |
| Avg. time to cross Start: | Unlikely common folk will figure out how to start. |
Miscellaneous
Where can I find my photos following the pub run?
Probably on Facebook. That's where I'd go. Someone want to bring a camera and take pictures? We need someone to document all things we will likely forget
I didn't register for the Twin Cities Marathon in time, do you have any entries?
Hell Yes! Of course we have entries. Just ask us at at the end and we'll give you the hook up. Just don't expect us to remember...
When will I receive my Official 2018 Finisher's Certificate?
When you head to this site and make it!
When will I receive my Official 2019 Finisher's Certificate?
If you haven't received a 2018 certificate what makes you think you'll get a 2019 Certificate?

I've heard the coaching at the CBRC is both legendary and very talented
You heard right! Our coaching staff is not only legendary and talented, but also incredibly sexy. We are talking about Coach Kraemer right? Because those other coaches are assholes!
Have a question not answered here? I'd suggest picking a random question and applying that answer to your question. It's fun, trust me! If that doesn't help I guess you could ask it here. Or you could ask in the comments below I guess.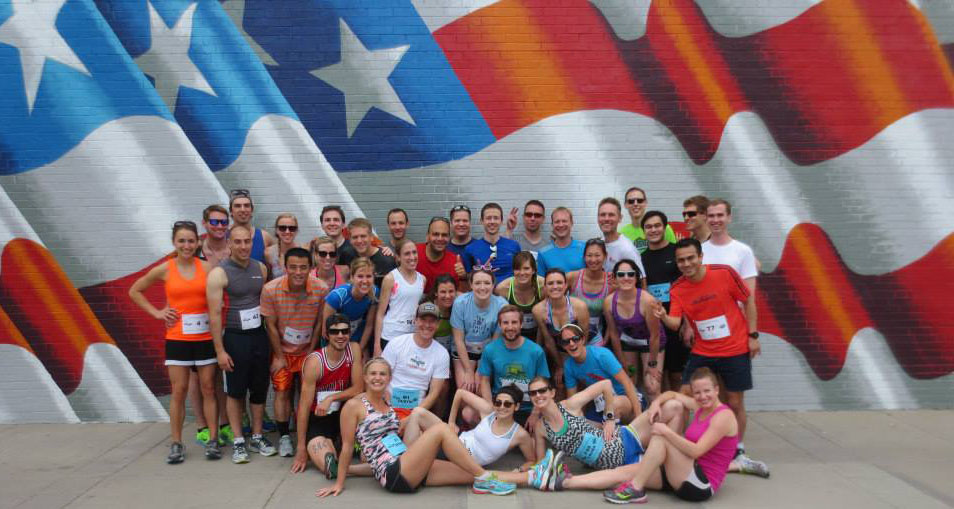 Comments: